Wedding & Special Events Lead
Wedding & Special Events Lead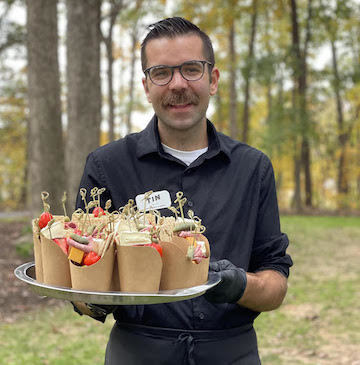 Be a part of the team at TIN Kitchen! We have a professional and fun atmosphere to work in, with friendly and outgoing employees. We are currently looking for a Wedding & Special Events Lead to join our full service catering department. We do countless full service events every season and this position is vital in events getting executed perfectly. We need outstanding individuals who share our passion for serving guests and delivering some of the best food in Charlotte.

IDEAL CANDIDATES WILL:
- Be outgoing and personable
- Be accountable and trustworthy
- Weekend /late evening availability is required. Majority of our full service events are Fridays/Saturdays/Sundays. Average shift time is 12-12pm.
- Must have a clean driving record and comfortable driving vans, box trucks and other large vehicles. All of our events are off-site, average 30-45 minutes away.
- Able to lift 50 pounds. This job includes lifting catering equipment.
- Able to stand on feet for long periods of time - average weekend shift is 12 hours
- 2 years of off-premise or banquet catering experience
- Minimum 1 year of experience leading and managing a team of 5 people or more
- Able to maintain professionalism during high-stress situations
- The ideal employee is motivated, results oriented and committed to providing outstanding customer service every day
RESPONSIBILITIES:
- Communicating with Catering Manager & Executive Chef about upcoming events

- Create load lists for catering events

- Pull and stage items needed for events

- Be on-site for full service events (weddings, rehearsal dinners, corporate functions, private parties, etc).

- Manage all team members on-site at event and help them where needed. This may include food handling and handling dirty dishes. A good leader will make sure everyone is doing their job properly but also fill in and assist when needed to get the job done.
- Follow event timeline and ensure event is being executed according to BEO.

- Communicate with on-site contacts at events to ensure service goes smooth
- Follow protocols for cleanup and close down of event and at commissary kitchen
WE OFFER:
- Competitive pay, including gratuity and potential bonus opportunities
- Opportunity to earn PTO (for full time team members)
- Benefits available for full time team members after 60 days of employment (Health, vision, dental, etc.)
- A fun, dynamic, and creative environment
- Free meals while working, and discounts for off the clock team members
- Closed on all major holidays (Christmas Eve, Christmas Day, Thanksgiving, Easter, New Years Day)
- Bi-annual employee appreciation parties
TIN Kitchen is an award-winning full service catering, food truck, and event company that serves Charlotte and the surrounding areas
By submitting this application I understand that
1. I authorize investigation of all statements contained in this application.
2. I understand that misrepresentation or omission of facts called for is cause for dismissal and that my employment is substantially dependent on truthful answers to the forgoing inquiries.
3. I understand that prior to employment I may be required to sign a non-disclosure agreement.
4. I understand that prior to employment I may be required to provide my DMV PIN and release my driving record to the employer.
5. I understand that prior to employment I may be subject to a comprehensive background/insurance/credit check.
6. I understand that prior to employment I may be subject to random drug testing.