Part Time Event Servers
Part Time Event Servers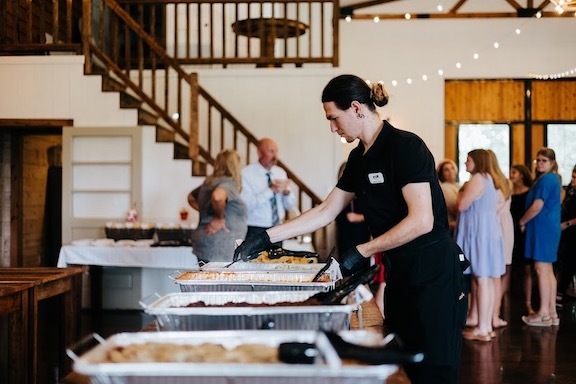 Be a part of the team at TIN Kitchen. We have a professional and fun atmosphere to work in, with friendly and outgoing employees. We are currently looking for part time servers to assist us with full service events, primarily weddings. We need outstanding individuals who share our passion for serving guests and delivering the best food and drinks in Charlotte.
IDEAL CANDIDATES WILL:
- Be outgoing and personable
- Be accountable and trustworthy
- Must have weekend availability
- Must have 1 year of experience in a food and beverage FOH position. Banquet server or catering experience is preferred.
- Able to stand on feet for long periods of time
- The ideal employee is motivated, results oriented and committed to providing outstanding customer service every day
*Note: This is a part time, as-needed position. Hours vary based on business needs. Primary shifts needed are on Fridays, Saturdays and Sundays.
YOUR JOB WILL INCLUDE:
- Maintaining a positive attitude towards guests, customers, clients, co-workers, etc.
- Meeting onsite at various event locations in the Charlotte area
- Completing various tasks associated with setting up an event. Unloading catering vans, setting tables, folding napkins, polishing silverware, filling water glasses, etc.
- Interacting with food, whether it be passing appetizers, plating food for guests as they walk through a buffet line, tableside beverage service or running dinner plates to tables
- Bussing tables and assisting with cleanup
- Following directions from event lead and completing all assigned tasks in an efficient and professional manner
WE OFFER:
- Competitive pay
- A fun, dynamic, and creative environment
- Free meals while working, and discounts for off the clock team members
- Additional hours available in other departments
- Closed on all major holidays (Christmas Eve, Christmas Day, Thanksgiving, Easter, New Years Day)
- Bi-annual employee appreciation parties
The TIN Kitchen is an award-winning full-service catering, food truck, and event company that serves Charlotte and the surrounding areas.
By submitting this application I understand that
1. I authorize investigation of all statements contained in this application.
2. I understand that misrepresentation or omission of facts called for is cause for dismissal and that my employment is substantially dependent on truthful answers to the forgoing inquiries.
3. I understand that prior to employment I may be required to sign a non-disclosure agreement.
4. I understand that prior to employment I may be required to provide my DMV PIN and release my driving record to the employer.
5. I understand that prior to employment I may be subject to a comprehensive background/insurance/credit check.
6. I understand that prior to employment I may be subject to random drug testing.